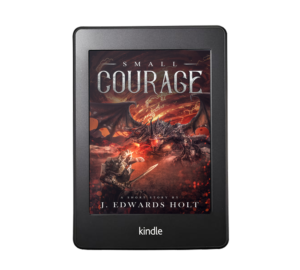 Small Courage: A Short Story
Come see my latest work, "Small Courage: A Short Story". Only $.99!
From the author of "Little Men, Big Treasures" and "The Summoner's Gem" comes a short story set in J. Edwards Holt's fantasy kingdom, Avanoth. When a malicious dragon named Leeba threatens to return and destroy the land and all of its people, the king assembles a group of his greatest knights. After determining that none of his men are up to the task, the king chooses an unlikely candidate to go and face the dreaded dragon. This decision causes much controversy among the people of Avanoth, and many begin to doubt the king's judgement. Confident in his decision, the king sends his chosen one to confront Leeba, despite the warnings of his counsel.
Follow the link below and download your copy today on Amazon!
Copyright © 2019 J. Edwards Holt. All rights reserved.